Castle Rock Bike and Ski
Full Service Bike and Ski Shop in Castle Rock, Colorado
Daily Ski & snowboard rentals available Now
Adult Packages: $35-$55/Day
Tween Packages: $25-$35/Day
Kid Packages: $22/Day
Choose a day and time to drop your bike off for its tune or repair.
You can bring your bike in any time during the day of your scheduled repair. We use time slots to meter how many bikes we take in on any given day.
A small deposit will secure your place in the repair queue. We will apply your deposit to the appropriate tune or repair when you bring in your bike. We will get your bike back to you in a few days. 
Note: One bike per reservation please.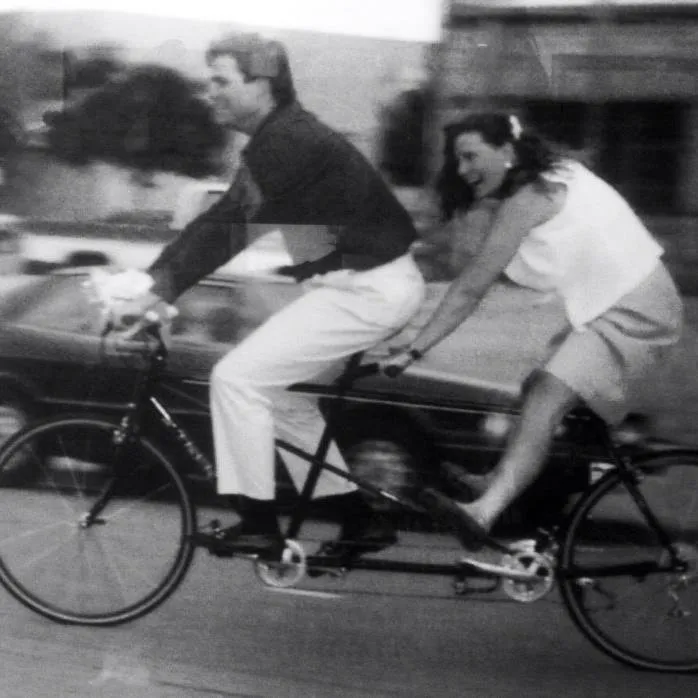 Mark and KC get a tandem for their wedding gift
Meet the Owners of Castle Rock Bike and Ski
Mark has been involved in the bike and snowsport industry since 1985.  As an avid cyclist and skier Mark can be found frequently exploring various trails and slopes.
He was a volunteer patrolman at Arapahoe Basin and still calls the mountain his "Center of the Universe."  Mark has been the head coach of the Castle Rock Crankers MTB race team and Youth Cycling Club since the league started 14 years ago.
KC, on the other hand, joined Castle Rock Bike & Ski in 2004 after working as a reporter in the TV and entertainment industries. She currently serves as the official "door greeter" at the shop and is a board member of the Castle Rock Downtown Merchants Association.
KC enjoys biking around the neighborhood and loves riding her mountain bike on singletrack trails. Skiing has been a lifelong passion for KC and after decades of hard work and dedication, she proudly considers herself an intermediate skier who appreciates every outdoor adventure she experiences.
Bike Shop, Sales, Rentals and Service
At Castle Rock Bike and Ski, we have everything you need to get the most out of your biking experience. From sales and rentals of top-brand mountain, road, and hybrid bikes to professional maintenance services, we make sure you're set up for success.
Our friendly staff are always on hand to help you find the perfect bike or accessory, and our knowledgeable mechanics can keep your bike in tip-top shape.
Whether you're an experienced rider or just getting started, Castle Rock Bike and Ski has something for everyone! Stop by today and let us help you get your adventure going in the right direction! Ski and Snowboard Sales, Rentals and Service
We offer sales and rentals of the latest equipment from leading brands, as well as expert tuning and repair services to make sure you get the most out of your ride.
Our experienced staff are always on hand to help you find the perfect setup for your needs and our certified technicians can keep your gear in prime condition.
Whatever you're looking for, Castle Rock Bike and Ski has something for everyone. Stop by today and let us help you get the most out of your mountain experience!
In Store Sales and Support
Castle Rock Bike and Ski is a proud small business that specializes in bike, ski and snowboard sales, service and support. Our team is highly experienced and passionate about the outdoors
We provide friendly customer service to all visit our shop and strive to be an active part of our community by supporting local events and sponsoring outdoor activities.
Hey there adventure-seekers! Looking for a place to gear up for your outdoor fun in Castle Rock, Colorado? Look no further than Castle Rock Bike & Ski! Established in 2000, we're a locally owned-and-operated shop that specializes in selling, servicing, and renting bikes, skis, snowboards, and snowshoes plus all the gear you need to make the most out of your time outdoors.
But here's the best part – we don't just sell products, we're all about selling FUN! That's why we like to think of ourselves as Ambassadors of Fun. Our mission is to make sure every outdoor adventure you embark on is a blast from start to finish. Whether you need assistance selecting the right equipment or some tips for your trip, our friendly and experienced staff is here to help.
So come on in and let us be part of your next amazing outdoor adventure!